Isolation work
If you are unwell with Covid symptoms or are self isolating, check the isolation work section on the website for Year 6 work.
Welcome to the Year 6 class page!
Skylines using Kandinsky Circles
The Explorer by Katherine Rundell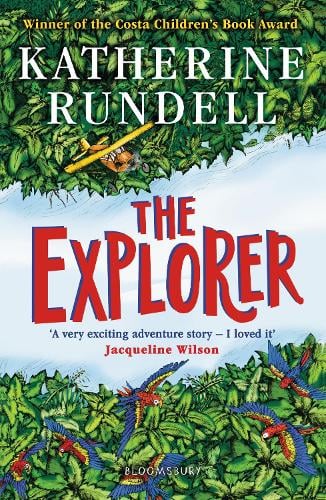 Our book this term is The Explorer by Katherine Rundell.
This week the children have read the first 2 chapters and found out about our four main characters; Fred, Con, Lila and her little brother Max. They ended the week writing Fred's diary entry after his first day crash-landed in the Amazon RainForest.
Autumn 2
RE
This term in RE we are looking at prayer in the lives of God's followers.
Have you thought what you would praise God for today? Year 6 have and here are some of their beautiful, thoughtful prayers.
'Big Questions'.
Have you considered what it is to be individual? Who needs healing? Or maybe, what heaven is like? How do you know Gof loves you? These are questions Year 6 have been thinking about.
Prayers of praise
What image would you create to show we are waiting for he birth of Jesus and preparing for his second coming? This was Bella's.
Literacy
This term our class reader is Thief by Malorie Blackman. The children are loving it so far!
We have discovered Lydia's dislemma, which choice will she make? Join the 'cool girl' group or do what she knows is right? The story has many twists and turns to come yet!
Year 6 have been acting out Mr Simmers' assembly speech - the children are rather scary when they are cross! Why don't you ask them why he is cross and which words/actions he uses to show this? They will be writing their own assembly speech this week.
Maths
The beginning of this term is all about fractions. Adding, subtracting, multiplying and dividing.
https://www.bbc.co.uk/bitesize/topics/zd2f7nb/articles/zn2y7nb
Science
This term's Science topic is Light. Last week we investigated how we know if light travels in a straight line.
This week in Literacy, Year 6 have been writing thier own description of a snowy scene. Some are beautiful, magical descriptions of tumbling snowflakes on whitened hills, while some are darker - frosted trees with bare knuckles of branches reaching out as you tentatively creep past. Which has yur child written?
Meet the teacher powerpoint
Exciting news!
We will be holding a Gold Tie Assembly tomorrow morning (Friday 23rd October). Unfortunately, due to Covid restrictions, we can not invite parents into school for the assembly, however we will be filming the presentation of ties and announcements of Year 6 Leaders. I will let you know how you will be able to view this after tomorrow.
The assembly can be viewed on the link in this week's newsletter.
Year 6 Gold Tie Assembly Friday 23rd October 2020
Sports Leaders 2020-2021
Bella, Khyra and Antonio are this year's Sports Leaders
Music Leaders 2020-2021
Maya, Marilyn and Ziggy are this year's Music Leaders
One World Council Leaders 2020-2021
Roosevelt, Ziggy and Isabella are this year's One World Council Leaders
Leaders 2020-2021
Reading Leaders 2020-2021
Isabella and Sapphire are this year's Reading Leaders
Treat time!
Year 6 have been working hard as a team - filling their pompom jar. As a result, they have earned a treat afternoon. On Friday 23rd October, we have planned for Year 6 to watch the film Holes (based on the book we have been reading), they will also have treats and drinks. If you have any questions about the afternoon's activities, please do contact me.
Year 6 can bring their own clothes to change into for the afternoon.
Visit from HMP Humtercombe
Year 6 were lucky enough to have a visit from Prison officers from HMP Huntercombe. They discussed modern day crime and punishment, relating it to punishments in the past. The children really enjoyed the afternoon of information and questioning of our guests.
Class worship
Today's worship encouraged the children to think how they know God loves them. Their thoughts are very touching!
Hail Mary
Peace in class comes when we listen to 'Hail Mary'. The children are learning the actions to this beautiful Hymn
https://www.youtube.com/watch?v=VZQjVI-P55w
Exciting news!
This week I have emailed Louis Sachar (the author of Holes, our class reader). I attached the children's version of Chapter 7 1/2. He has said he will read them. So , we await his response!
Year 6 have had a busy start to the year. We have been performing poetry, writing stories about 'The Black Hat', reminding ourselves of number and place value in Maths and experimenting with electricity circuit equipment in Science. It has been an unusual start to the year with new routines to learn and settling back into class life, however, the children are happy and focused and it is beginning to feel like we've never been away!
The first few days of Year 6
Holes by Louis Sachar
This week we began reading our class book Holes by Louis Sachar. We are getting to know Stanley Yelnats, Armpit, Zero and X-ray, ask the children what has happened so far!
Anti-bullying assembly
All the children in school took part in a virtual anti-bullying assembly today. Year 6 watched interviews and discussions with famous people who are leading an anti-bullying project across the country.
Our mind map of quotes and evidence from Holes.